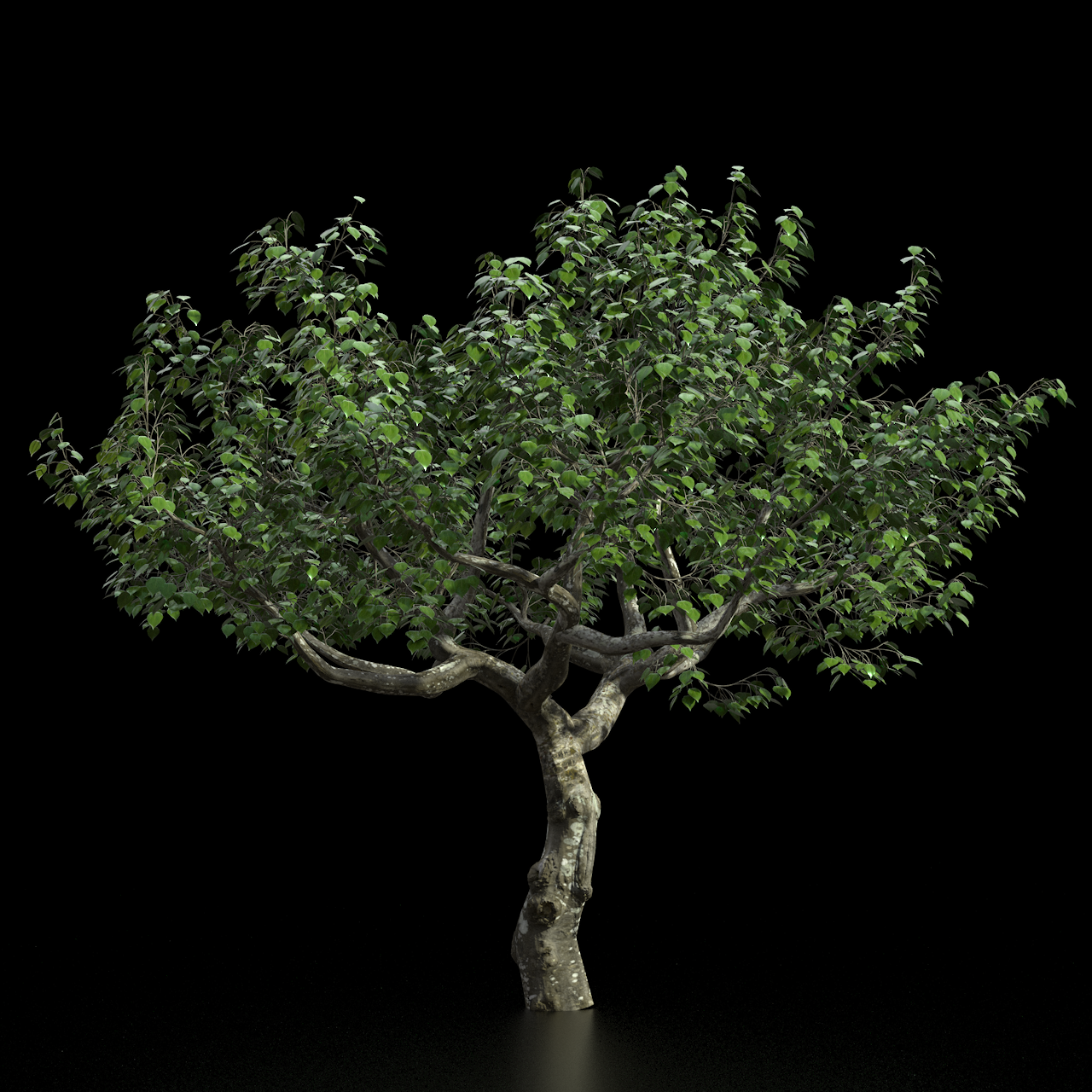 Tropism v1.0.2 - Modo 13, 14, 15 & 16
On Sale
Pay what you want:
(minimum €50.00)
Tropism is a fully procedural tree/vine/vein generator plugin for Modo built on custom Mesh Operators. It is based on the great
Space Colonization Algorithm
 (non exclusive permission) by Adam Runions.
FEATURES
(
demo video
)
Grow entities like trees, shrubs, plants, twigs, hedges, veins, vines, lightning bolts in real time
Grow inside mesh boundaries, on mesh surfaces, along curves, in particle systems...
Paint particles on mesh surfaces and see vines grow in real time where you paint
Define location of the growth using one or more locators (roots)
With several roots all entities will compete for space without branch collisions
Use mesh volumes, deformers, effectors to shape, deform and animate the growth
High/Low poly generation controls (quads, sds)
Mesh UV-mapping automatically generated
Control the growth using curve guides
Twig/Leaf system controls
Create custom billboards and scatter leaves using Modo Replicators
Multiple animation controls for growth
Sketch or create random twigs and bake to textures
And much more.... visit the forum

REQUIREMENTS
Tropism v1.0.1 for Modo v13 - v15
Tropism v1.0.2 for Modo v15 - v16
Windows 10, 11 (64-bit)
Mac OSX 10.13 -12.3.1 (Intel based)
(Notarization on MacOS is not supported but the plugin works if a gatekeeper exception is added)

WHATS INCLUDED
The PointScatter meshop scatters free floating vertices (semi particles) in any closed mesh volume, on any mesh surface, along any set of curves. It can also distribute points in the shape of a basic tree/bush.


The SPCOperator meshop grows curves in different ways to mimic the typical structure of different kinds of vegetation based on attractor points (the semi particles). 


The SproutPass is a meshop that manipulates curve vertices in different ways to mimic growth.


The TwigOperator lets you add additional polylines/curves from the curve tip along any curve towards its start point with lots of control. It also adds particles with transformation control to the curve tips that can be used by replicators to distribute prototype leaves/twigs/billboards to its positions.


The CurveMesher generates a mesh along any set of curves in a mesh layer with lots of control to detail and UV mapping. What is unique with this mop compared to other similar curve mesher tools in Modo is its ability to understand curves that are attached to each other based on certain rules. It understands the typical structure of a tree.


10+ example scenes containing many of the examples shown in the demo video and 2 hours free online training (youtube)

(You can combine all of these MeshOps with Modo standard MeshOps but be aware that you will most certainly find combinations that won't do what you expect even though all Tropism MeshOps follows the Modo standard.)

LIMITATIONS:
Tropism does not include any texture packs or presets.
Please watch the youtube videos before buying. We generally don't refund unless you have technical problems we are unable to solve.
Tropism is currently developed by one single person (spare time). You can expect the support to be according to a best effort via email, slack or other social media channels.

LICENSE TERMS:
By purchasing this product you agree to the following license terms.

You must activate your license online and you may run your license simultaneously on two (2) workstations. Licenses can be transferred between machines via the online service without timeouts or delays. All registration and transfers requires an internet connection. Random online checks will occur but as long as you have an active license you can use this plugin offline up to 20 days. Make sure you can reach the service from your country using this link before buying!


PRIVACY DECLARATION:
By purchasing this product you give us your consent  according to EU GDPR to handle your privacy information according to the privacy declaration below.

We don't gather any information other than your email address, your license key and a hashed machineid. Metrics are logged in our license backend to be able to provide a good license service. Since your online checks are randomized in your client there is no way for us to trace the frequency of your use of Modo or our plugins. Your host name is visible in the machine id to help you manage your licenses in the online service.


DISCLAIMER:
This software "Tropism for Modo 13,14, 15 & 16 is expressly provided "AS IS."

THE DEVLOPER MAKES NO WARRANTY OF ANY KIND, EXPRESS, IMPLIED, IN FACT OR ARISING BY OPERATION OF LAW, INCLUDING, WITHOUT LIMITATION, THE IMPLIED WARRANTY OF MERCHANTABILITY, FITNESS FOR A PARTICULAR PURPOSE, NON-INFRINGEMENT AND DATA ACCURACY.

THE DEVLOPER NEITHER REPRESENTS NOR WARRANTS THAT THE OPERATION OF THE SOFTWARE WILL BE UNINTERRUPTED OR ERROR-FREE, OR THAT ANY DEFECTS WILL BE CORRECTED. THE DEVLOPER DOES NOT WARRANT OR MAKE ANY REPRESENTATIONS REGARDING THE USE OF THE SOFTWARE OR THE RESULTS THEREOF, INCLUDING BUT NOT LIMITED TO THE CORRECTNESS, ACCURACY, RELIABILITY, OR USEFULNESS OF THE SOFTWARE.

You are solely responsible for determining the appropriateness of using the software and you assume all risks associated with its use, including but not limited to the risks and costs of program errors, compliance with applicable laws, damage to or loss of data, programs or equipment, and the unavailability or interruption of operation.